Breo Women's Luminex Watch - Red - One Size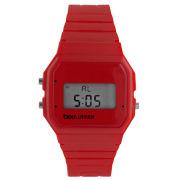 Breo Women's Luminex Watch - Red - One Size
Breo • 5060193012650 • 5060193012650 • 01-01-2013 • B-TI-LX10 • Women • Red • Watch.
The Breo Women's Luminex Watch - Red - One Size boasts a rectangular digital display and fastens with a plastic strap and a pin buckle closure
The product and pricing data may differ from the on on the merchant's website. Please always check the prices and availability before ordering. This website cannot be held responsible for any data discrepancy.