Triwa Aqua Lomin Watch - Aqua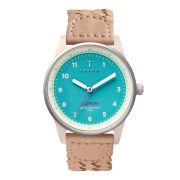 Triwa Aqua Lomin Watch - Aqua
Triwa • 01-01-2013 • LOAC110 • Women • Blue • Watch.
This eye-catching Triwa Aqua Lomin Watch is a unisex handcut piece which features a turquoise dial with eggshell white numbers and a purple second hand
The product and pricing data may differ from the on on the merchant's website. Please always check the prices and availability before ordering. This website cannot be held responsible for any data discrepancy.