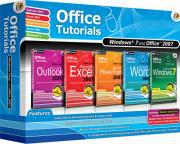 Office Tutorials Windows 7 and Office 2007 Mega Pack
Avanquest • 5016488116206 • 5016488116206 • 17-05-2010 • Avanquest • English • E.
First steps with Outlook Starting Outlook Creating a message account Using several message accounts The Outlook Window Email Module Inbox and Outbox Junk E-mail Filter Sending messages t
The product and pricing data may differ from the on on the merchant's website. Please always check the prices and availability before ordering. This website cannot be held responsible for any data discrepancy.