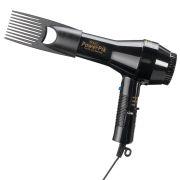 Wahl Powerpik Hairdryer
Wahl • 5037127001073 • 5037127001073 • 06-03-2013 • ZX052 • Women • Hair Styling • Hair Dryer.
The Wahl Powerpik Hairdryer is specially designed to dry afro hair quickly and efficiently thanks to the unique pik attachment which provides deep and effective drying and the powerful turbo motor
The product and pricing data may differ from the on on the merchant's website. Please always check the prices and availability before ordering. This website cannot be held responsible for any data discrepancy.