Diva Session Instant Heat 32mm Rollers Clips & Pins Pack of 4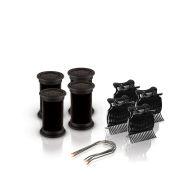 Diva Session Instant Heat 32mm Rollers Clips & Pins Pack of 4
5060107473003 • 5060107473003 • 01-01-2011 • suk422 • Women • Hair Styling • Hair Rollers.
These Diva Professional Instant Heat Rollers are an innovative set of rollers that can be heated in just eight seconds in order to give you salon quality gorgeous curls almost instantly
The product and pricing data may differ from the on on the merchant's website. Please always check the prices and availability before ordering. This website cannot be held responsible for any data discrepancy.