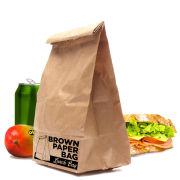 Brown Paper Bag - Insulated Lunch Bag
Luckies of London • 5060146590556 • 5060146590556 • 01-01-2012 • LUKBR • Men,Women • Christmas,Fathers Day • For Him,For Her • Kitchen • Homeware Gadget.
The Brown Paper Bag takes its design inspiration from the American tradition of taking your packed lunch to school or work in a brown paper bag
The product and pricing data may differ from the on on the merchant's website. Please always check the prices and availability before ordering. This website cannot be held responsible for any data discrepancy.