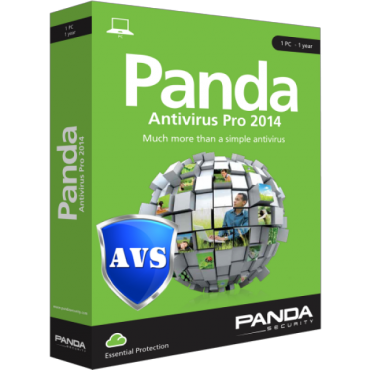 Panda 2014 Antivirus Pro (1 User/License 1 Year)
Panda • PAN-AV1-OEM • 8426983043513 • 8426983043513
Panda 2014 Antivirus is more than just a simple antivirus
Merchants offering «Panda 2014 Antivirus Pro (1 User/License 1 Year)»
Currently no merchant offers this product.
Description
Panda 2014 Antivirus is more than just a simple antivirus. The new Panda Antivirus Pro 2014 makes it easy to use and provides intuitive protection for your computer. Simply install it then forget about viruses spyware hackers rootkits and online fraud. Browse the web chat to friends bank online with complete peace of mind and with no interruptions. Collective Intelligence technology makes Panda Antivirus Pro 2014 simple quick and gives more complete protection. Protect your PC from all sorts of known and unknown threats. You can simply install and forget about viruses and other threats to your computer its essential antivirus software protection for any PC. With the PC recovery system you can start your computer in safe mode and cure it from viruses in emergencies or critical scenarios. You can even share this with other people to help them clean their computers. Protect your wireless network from hackers and trespassers. Panda Antivirus Pro 2014 protects your PC with its bidirectional firewall which protects your wireless network from unwanted connections. This software also protects your online communications from fraud phishing and other types of crime. Installing antivirus software has never been easier Panda is light fast and quick to install.  Panda 2014 Antivirus Pro is a modern and intuitive user experience just like the latest operating systems. - A.D. Features: Panda 2014 Antivirus Pro (1 User/license for 1 year) OEM Panda Security Cloud Technology offers a new protection model based on a user community where everyone contributes. Your computer will always be updated and protected. Additionally your PC won't limit detection capabilities as Panda's huge virus detection database is located on the Internet (in the Cloud) Protection against spyware phishing (online fraud) rootkits (stealth techniques) and banker Trojans. Real-time protection New Web Filter for safe Web browsing Complete protection against known and unknown virus attacks Vaccinate your USB flash drives against infections Firewall. Block intruders and hackers even on your wireless network Technical Specifications: Operating System: Windows 8 (32-bit and 64-bit) Windows 7 (32-bit and 64-bit) Windows Vista (32-bit and 64-bit) Windows XP (32-bit only) Technical Requirements: Processor: Pentium 300 MHz or faster RAM: 128 MB (1 GB recommended) Hard Disk: 265 MB free space MS Internet Explorer 6.0 Supported Browser: Microsoft Internet Explorer 6.0 or higher Mozilla Firefox 2 or higher Google Chrome
Details
| | |
| --- | --- |
| Brand | Panda |
| Model | PAN-AV1-OEM |
| EAN | 8426983043513 |
| ISBN | 8426983043513 |
The product and pricing data may differ from the on on the merchant's website. Please always check the prices and availability before ordering. This website cannot be held responsible for any data discrepancy.